24 Useful Tools and Apps for Marketers
Wondering how to get more marketing tasks done in a day? Looking for some fun tools to try?
In this article, you'll find 24 mobile apps and desktop tools from the Social Media Marketing podcast's Discovery of the Week.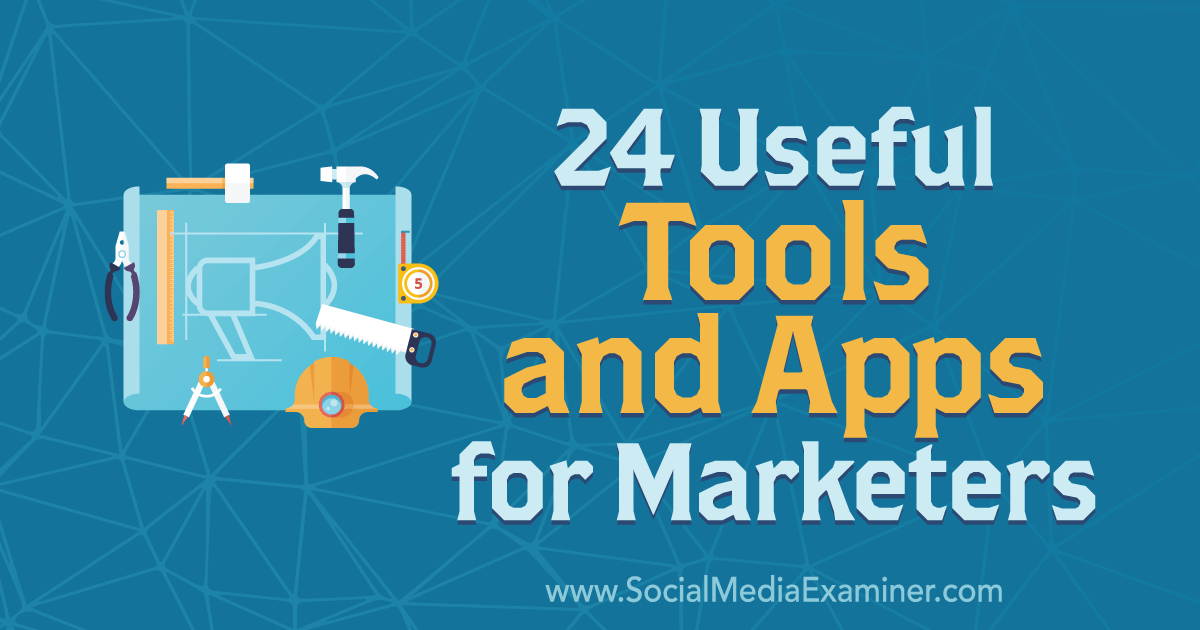 #1: Stories Creator
Stories Creator helps you create batches of images for Facebook or Instagram Stories. Creating a bunch of stories content isn't efficient on a smartphone. Stories Creator, a desktop browser-based tool from Buffer, solves that problem (although it works only with images, not video).
You can upload and design images on a larger desktop computer, download the final images, and send them to the person who will be posting the stories.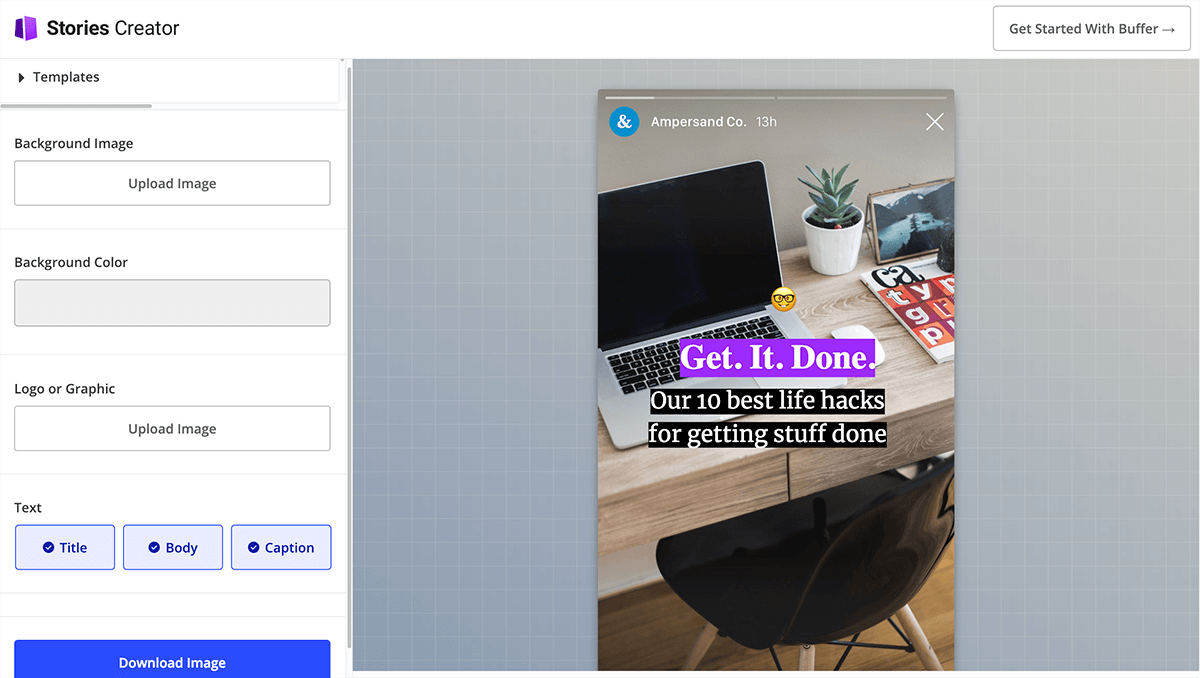 To create images in Stories Creator, begin with a template. Customize the background with your own image or a solid color. You can also add a logo or graphic that appears over the background. In each template, you can customize three types of text: title, body, and caption. Click the type of text you want to edit and editing options appear. In the left pane, toggle off any element to hide it.
After you've edited the template to your liking, click the Download Image button to download it and you can move to the next one.
Stories Creator is free and available for any desktop computer that has a web browser.
#2: PhotoUtils
PhotoUtils is great for basic editing of images you post on social media. You edit photos with PhotoUtils in a desktop browser. Simply visit the website, upload your image, and decide how you want to edit it.
PhotoUtils lets you make the most common edits: resize, crop, compress, rotate, flip, or convert the image to a different file format. PhotoUtils is especially convenient for social media managers because the resizing options include a comprehensive list of image sizes from major social media platforms.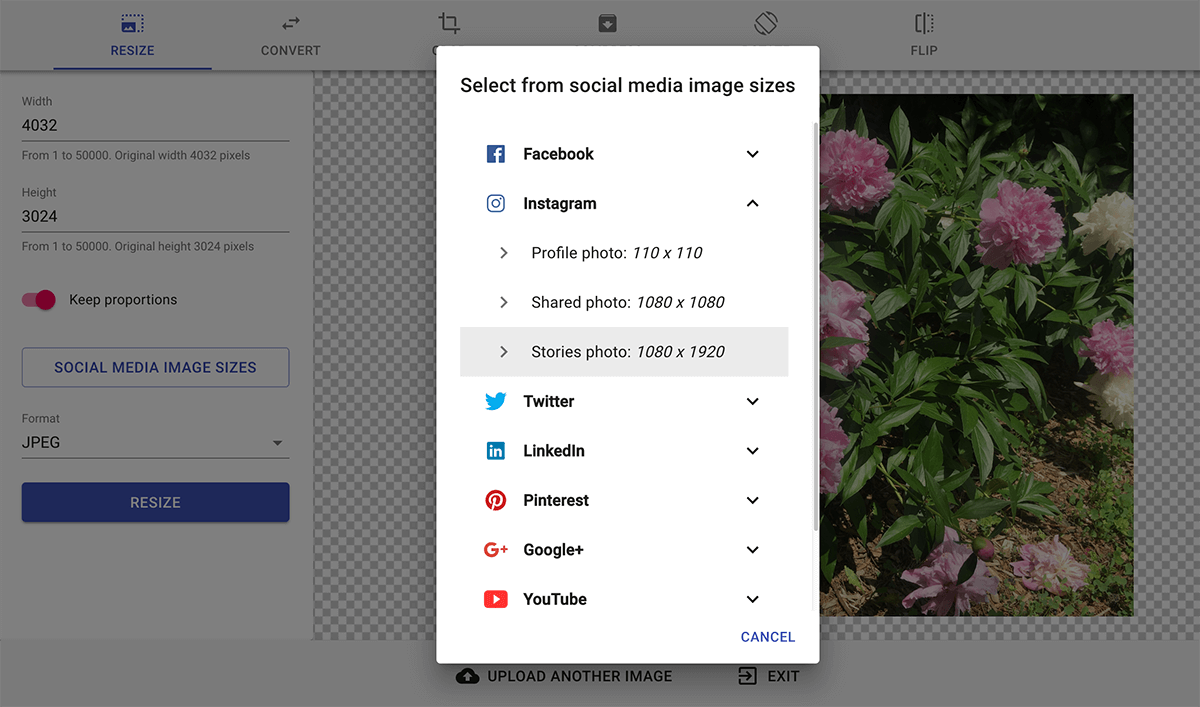 Although PhotoUtils isn't a comprehensive image editor, it's a great free tool when you need to make a few quick changes or if a team member who doesn't have software needs to make basic image edits. For example, anyone can easily resize a square image to 110 x 110 pixels and export it as a PNG file.
#3: LumaFX
The LumaFX app for iOS is a robust editor for recorded or imported video. Basic features include the ability to crop, color-correct, and rotate video. The filters are similar to Instagram's, and you can combine them to create unique presets for video clips.
The effects library is exceptional, especially the fast-, reverse- and slow-motion effects. To illustrate, the slow-motion effects support up to 244 frames per second and you can create slow-motion animations.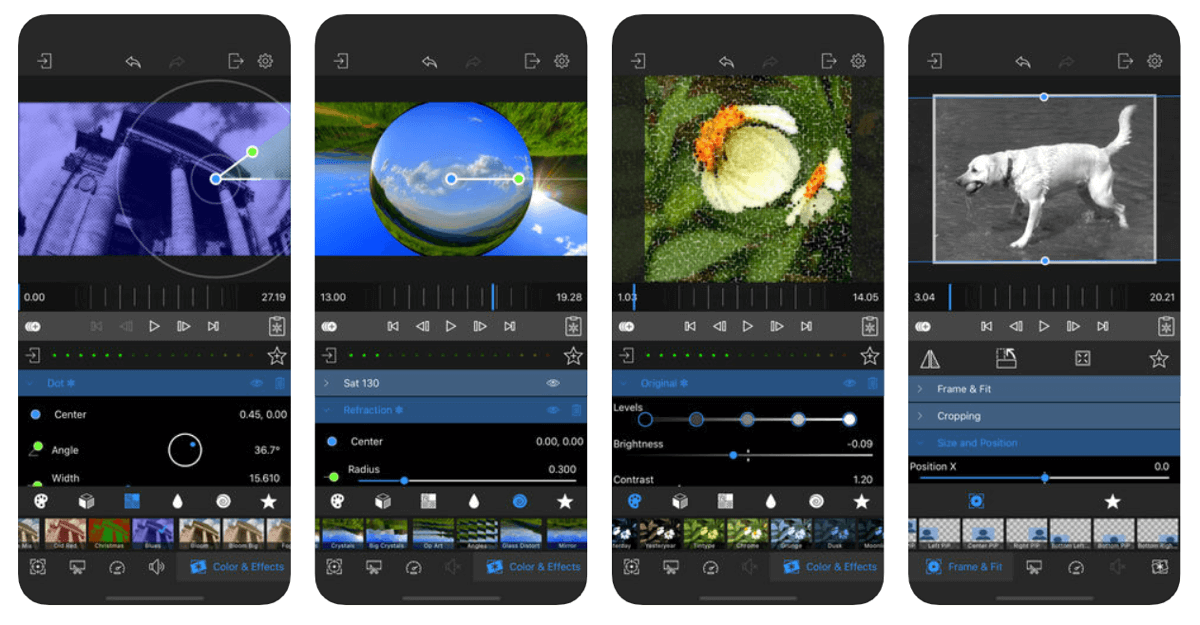 The app is easy to use and costs $2.99. You can find it in the App Store or at luma-touch.com.
#4: removebg
removebg can remove an image background automatically in 5 seconds. To perform this magic, the web-based tool lets you upload an image or provide an image URL. Then removebg's artificial intelligence gets rid of the image background for you.
Say you have a picture you want to use on a website but the background doesn't look right with your website's color palette. Use removebg to generate a transparent PNG that you can put over any background color you want. Although many image editing programs can remove a background, it can often be a more complicated or time-consuming process than it is with removebg.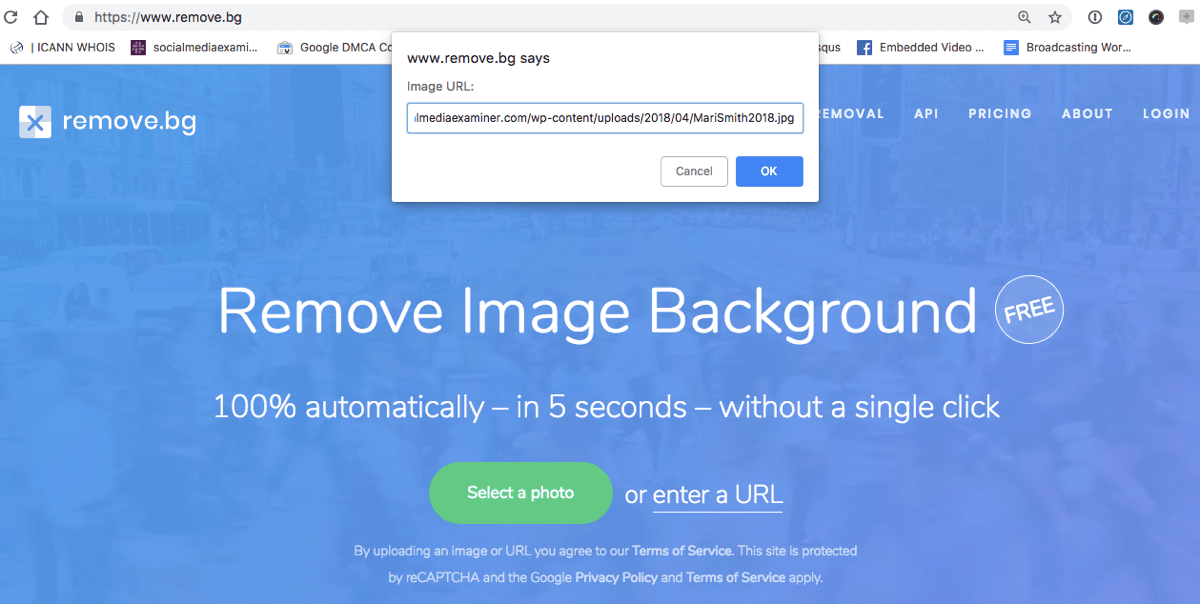 You can upload a photo from the image library on your computer or mobile device. If you provide an image URL instead, a new window appears with the original image on the left and the image with a transparent background on the right. After removebg processes your image, you can download the file and continue editing it in another image editor.
#5: Sticker Mule
Sticker Mule offers an easy way to make branded stickers, magnets, buttons, or packaging. Simply upload the photo or graphic you want to use and Sticker Mule takes care of the rest. Prices vary depending on the project type and quantity of materials, but low-quantity runs are affordable. For instance, die-cut stickers start at $57 for 50 stickers.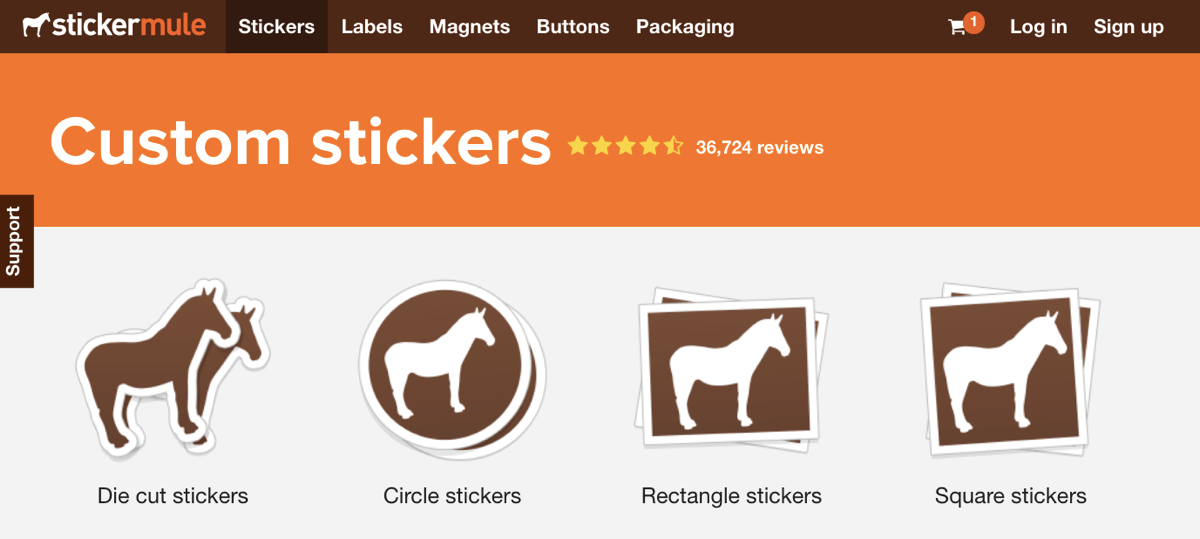 #6: Airstory
Airstory is a clipping tool that helps you save ideas and sources for your content. Content marketers who work with lots of different content for articles may find Airstory essential.
After you add the free Airstory browser extension to the Chrome or Firefox browser, you can highlight something you find online and then clip the content you want to save by right-clicking and selecting Save Text to Airstory. Airstory also saves the URL automatically so you don't have to worry about saving the source of your clipped content. To organize clips, save them to a project and add keyword tags.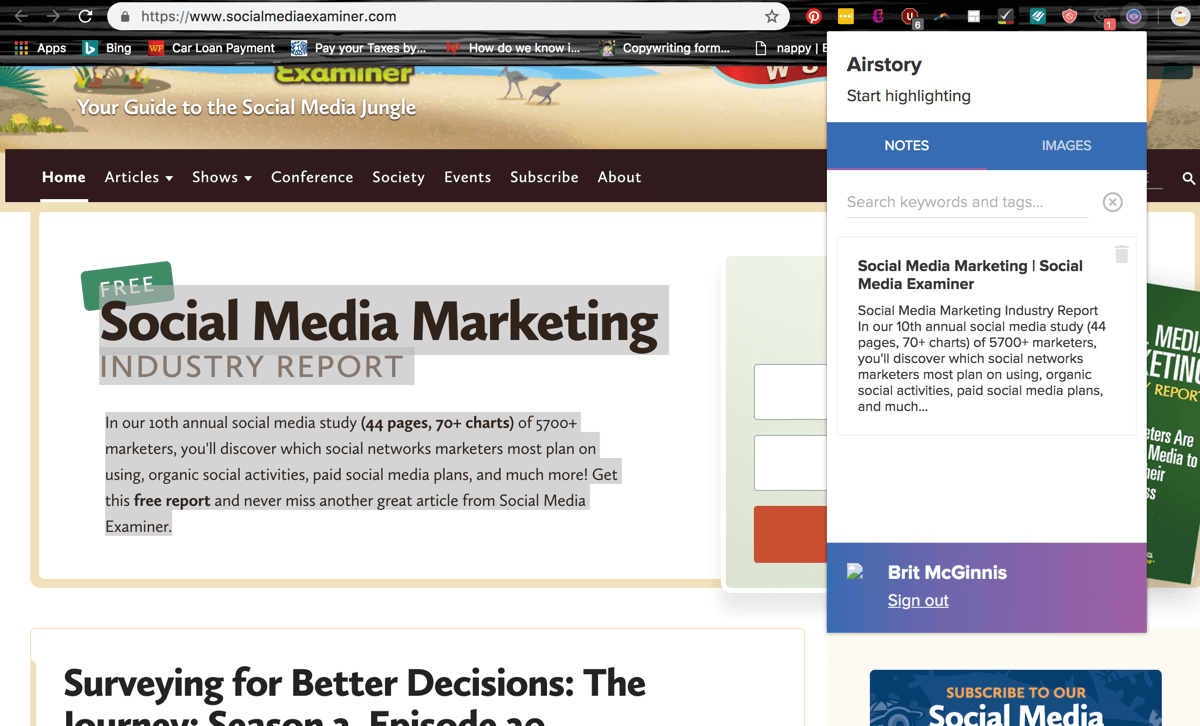 Later, when you're writing content for your social media marketing, you can refer to your Airstory clips and even drag them right into whatever app you use to write. To visualize this, if you write in Google Docs, you simply click the Airstory icon in your browser and drag the clip you want into your Google Doc. Airstory also works with Gmail, WordPress, and Zapier.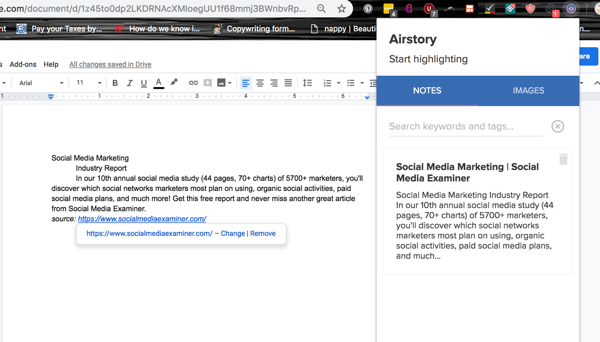 #7: Infogram
Infogram helps marketers create professionally designed infographics. To get started, create an account and then you can customize a template or build your own infographic by dragging and dropping the items your report needs to show.

If you have data in a spreadsheet file, Google Sheet, or other source, you can upload it to the browser-based template editor. You can also customize the template with text, charts, maps, and graphics. The built-in options can help you save time creating great-looking infographics, but you still have enough flexibility to make the graphics reflect your company's branding.
The free version includes a limited number of templates and allows you to share your graphic online. With a subscription, which starts at $19 per month, you have access to more templates and privacy controls and can download your image in a range of formats. You can also use the tool to create reports, slides, and more.
#8: Teleprompt.me
Teleprompt.me is a free Chrome browser tool (not an extension) that acts like a teleprompter you can refer to while reading a script aloud for video or audio.
Open the tool on your computer and grant access to your microphone. After you copy and paste your script into the box in the upper right, your text appears in the browser, large enough to read like it's on a teleprompter. Then, as you speak the words, they're grayed out so you know exactly where you are.

Because the words progress as you do, you can easily follow along, even if you sneeze or need to pause for a reaction from a live audience. You can also adjust the size of your text for better legibility.
Teleprompt.me is free and accepts donations of $19 per year.
New Instagram Scheduling and Messaging Tools
5 Ways to Use Psychology to Improve Your Content Marketing
Psychology is the cornerstone of all marketing – especially the psychology of persuasion.
Unfortunately, some marketing has evil potential. Think of cigarette ads of yesteryears or those Facebook ads where a digital marketing agency is guaranteed #1 on Google.
Nowadays, we see companies of all sizes promote unfair promises while hiding behind BS awards or previous successes but no growth of character or business since those awards or achievements.
Although these marketeers with evil intentions and practices exist, the remaining ones – thankfully the bulk of them – have positive intentions.
I once gravitated toward the malignant types, but learned my lessons and will only work with those of genuine and ethical purposes.
Happiness spreads, and it's a marketer's job to ultimately spread that happiness. Turbocharge it. Make it part of your personal, business, or agency's mission statement.
The quickest route forward is to impress and influence for the good, which has a natural byproduct of happier people and increased ROI.
To do so, consider using the following psychological principles within your content marketing.
Many of the strategies discussed below are rooted in principles found in Robert B. Cialdini's "Influence: The Psychology of Persuasion". Read that book.
Read full story @ Search Engine Journal
20 new content ideas for the social media savvy business
So your business already has an active social media presence, you've already got a well-researched strategy, and you're feeling pretty savvy when it comes to marketing your business over social networks.
Believe it or not, now isn't the time to say 'mission accomplished' and start high fiving your colleagues. A social media content strategy should be in constant development; changing with the trends and shifting with your engagement levels.
With that in mind, here are some less-than-basic content ideas that you may not have tried before…
New content ideas for businesses on social media
1. Weekly challenges – People love to be challenged. Whether it's an industry-relevant riddle or a mini Wordsearch, it'll offer your audience a great incentive to return to your social channels week by week.
2. Fill in the caption – A great idea for Instagram is to post an image and ask your followers to suggest the caption. Ideally, caption suggestions will be fairly amusing.
3. Live video – Live video is always popular. Give your followers a tour of the office, or host a tutorial or webinar.