Facebook Ad Relevance Score Updates: What Marketers Need to Know
Have you noticed a change in Facebook ad relevance scores? Wondering what the three new Facebook ad relevance diagnostics tell you?
In this article, you'll learn how to use Facebook ad relevance diagnostics to improve your advertising campaigns.
What Changed With Facebook Ad Relevance Metrics?
Facebook's relevance score is an assessment based on how well your ad is resonating with the audience you're serving it to. Each ad is rated on a scale of 1–10, with 1 being not very relevant and 10 being very relevant to your audience. Ads receive a relevance score when they've generated more than 500 impressions.
The problem with this metric is that it doesn't give you much direction on how to improve a low score. A low score doesn't tell you if the problem is the ad itself, the audience targeting, or the conversion you're bidding for. There's also a perception that ads with low relevance scores don't get results, which isn't the case. Ads with low relevance scores can still get results; however, a low score may mean there's room to improve your results.
To help you better assess your ad performance and give you more direction on where to make improvements, Facebook is replacing the relevance score with three ad relevance diagnostics. These metrics assess the quality of the ad, the engagement the ad is receiving, and the ad's expected conversion rate compared to ads competing for the same audience.
For each of the ad relevance diagnostics, your ads will receive a ranking of Below Average, Average, or Above Average, rather than a single estimate between 1 and 10.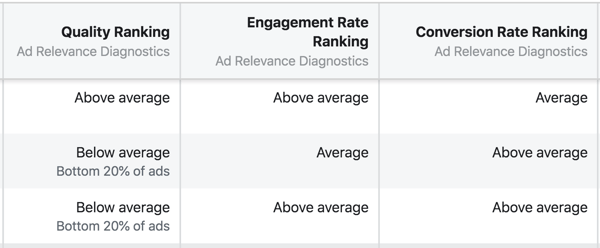 Read full story HERE 
New Instagram Scheduling and Messaging Tools
5 Ways to Use Psychology to Improve Your Content Marketing
Psychology is the cornerstone of all marketing – especially the psychology of persuasion.
Unfortunately, some marketing has evil potential. Think of cigarette ads of yesteryears or those Facebook ads where a digital marketing agency is guaranteed #1 on Google.
Nowadays, we see companies of all sizes promote unfair promises while hiding behind BS awards or previous successes but no growth of character or business since those awards or achievements.
Although these marketeers with evil intentions and practices exist, the remaining ones – thankfully the bulk of them – have positive intentions.
I once gravitated toward the malignant types, but learned my lessons and will only work with those of genuine and ethical purposes.
Happiness spreads, and it's a marketer's job to ultimately spread that happiness. Turbocharge it. Make it part of your personal, business, or agency's mission statement.
The quickest route forward is to impress and influence for the good, which has a natural byproduct of happier people and increased ROI.
To do so, consider using the following psychological principles within your content marketing.
Many of the strategies discussed below are rooted in principles found in Robert B. Cialdini's "Influence: The Psychology of Persuasion". Read that book.
Read full story @ Search Engine Journal
20 new content ideas for the social media savvy business
So your business already has an active social media presence, you've already got a well-researched strategy, and you're feeling pretty savvy when it comes to marketing your business over social networks.
Believe it or not, now isn't the time to say 'mission accomplished' and start high fiving your colleagues. A social media content strategy should be in constant development; changing with the trends and shifting with your engagement levels.
With that in mind, here are some less-than-basic content ideas that you may not have tried before…
New content ideas for businesses on social media
1. Weekly challenges – People love to be challenged. Whether it's an industry-relevant riddle or a mini Wordsearch, it'll offer your audience a great incentive to return to your social channels week by week.
2. Fill in the caption – A great idea for Instagram is to post an image and ask your followers to suggest the caption. Ideally, caption suggestions will be fairly amusing.
3. Live video – Live video is always popular. Give your followers a tour of the office, or host a tutorial or webinar.