How to Sell More Products on Instagram: 4 Tips That Work
To have success selling on Instagram, you first need to build a following of people who have a genuine interest in your brand and products. If you don't have the right audience, you'll have a difficult time converting them to customers.
One way to attract new followers is to use hashtags in your Instagram posts. Choose hashtags that your ideal customers might use, search for, or follow. Don't be afraid to experiment. It might take some time to find the right combination of hashtags that reaches your ideal followers.
If you're a local business or a restaurant (or even if you're not), you'll also want to add geolocations where your ideal customers are. Chances are they'll look for a specific location and you'll want to be there when they do.
Once you've developed a following that's likely to convert, here are some ways to promote your products on Instagram.
Want to learn more? Click here for the full article @ The Social Media Examiner
7 Tech CEOs Share Marketing Trends And Predictions For 2020
As we approach 2020, I asked seven tech CEOs to identify the top marketing trends. Below are their insights.
D2C companies will abandon email as their primary customer communication channel. Leore Avidar, co-founder and CEO, Lob
"In 2020, direct-to-consumer (D2C) companies will see email unsubscribe rates grow toward 40% and reach all-time highs. With platforms like Instagram, Facebook, and Google becoming increasingly expensive, brands are going to be forced to find alternative channels to communicate with their customers. Brands will need to reassess their marketing strategies and modernize more traditional engagement approaches in order to maintain customer loyalty while creating unique and meaningful ways to reach their customer base. In an era of extreme testing and personalization, this leaves D2C brands with limited options and they must adopt new channels that create a direct relationship and drive engagement."
AI is about to get even noisier, but 2020 isn't the year that AI changes the world, Sudheesh Nair, CEO of ThoughtSpot
"If you thought the marketing noise around AI was loud in 2019, prepare for it to get deafening in 2020. Private companies, especially startups, will increasingly tout themselves as AI companies in a bid to capture VC dollars, regardless of what they actually offer. Similarly, we'll see companies, especially public ones, repackage their offerings with some sort of AI spin to impress shareholders hungry for stories of digital transformation success. 2020 is shaping up to be a tough year for AI with people getting disillusioned with the distance between marketing and reality. Companies will need to continue to invest in infrastructure that can handle AI capabilities and a rash of APIs to connect data together to train and feed algorithms."
Retail Trend: Hyper-local, Tom Buiocchi, CEO, ServiceChannel
" 'Hyper-local' will be a trend for retail and services of all kinds. Big retailers are shifting from the mega-super-store to local outposts that look and feel more like part of the community. Location matters more and more, and with ubiquitous delivery of anything, some stores will simply go to where the shoppers are. Healthcare is no exception: expect to see more and more core medical services offered at pharmacies or even purpose-built locations. In doing this, retailers can provide shoppers with a convenient and efficient experience."
Read full article @ Forbes.com
How to Create Instagram Content That Engages Your Audience
12 Social Media Marketing Predictions From the Pros
#1: Facebook Ad Costs Push Advertisers Off the Platform

Facebook advertising is going to get much more expensive in 2020. CPMs will increase, which means it will now cost you more to reach your target audiences.
The implication of this change is that companies with a low average order value or that don't change how they evaluate their Facebook advertising returns will be priced out of the platform. The statement, "the business that can pay the most for a customer wins" has never been truer. The solution to combating increasing Facebook ad costs is threefold.
The first is to decrease your cost per purchase or cost per lead. There are numerous ways to do this. One of the most effective is to continually refresh and test your ad campaign components—such as ad copy, creative, audiences, offers, and objectives—to reduce the impact of ad fatigue.
The second, which requires no work in your ad account, is to increase your average order value or client value. By increasing the amount that someone spends when they first buy from you, you create a bigger gap between your cost per purchase and the revenue from that purchase, thereby increasing your return on ad spend (ROAS).
The third way to combat increasing Facebook ad costs goes back to my earlier point: Change the way you evaluate your Facebook advertising returns. Instead of measuring only your first-purchase ROAS, which is reported directly in Ads Manager, you should also measure your true ROAS, which factors in your customer lifetime value.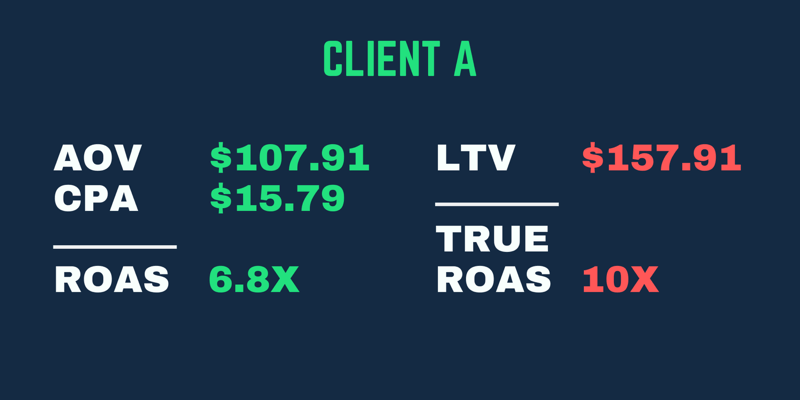 True ROAS is the real worth of a customer to your business when you acquire them via Facebook or Instagram advertising and they go on to become a repeat customer who spends a multiple of what they spent when they first bought from you.
Read full article at Social Media Examiner