How to Use LinkedIn to Turn Cold Prospects Into Warm Leads
Do you want more warm leads from LinkedIn? Wondering how to use LinkedIn to schedule more calls or meetings with new leads?
In this article, you'll discover how to use four LinkedIn marketing features to nurture leads.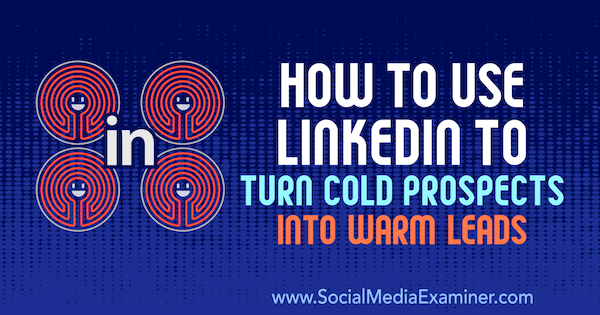 #1: Recommend a Group Post for More Exposure to All LinkedIn Group Members
In the past, LinkedIn groups have had a kind of ghost-town feel. Instead of fostering connection, networking, and engagement, they were a den of self-promotion. As part of LinkedIn's efforts to change this, groups are now part of the main LinkedIn platform instead of a side feature. It's now easier to access them from the home page, and your group conversations have more visibility in the main feed.
LinkedIn groups used to allow group owners to deliver announcements to all group members via group messaging. Now group members will be informed of group updates and conversations via LinkedIn notifications in the LinkedIn app and on the home page.
Although groups have had their drawbacks, they're fantastic positioning tools, even if your group doesn't yet have the engagement you want to see.
As a group owner, it's easier to stay top of mind because LinkedIn has a feature that lets you control which posts are promoted to your members. To recommend a group post, make sure you're logged in as an admin to the group. Then navigate to the post you want to promote.
5 Ways to Use Psychology to Improve Your Content Marketing
Psychology is the cornerstone of all marketing – especially the psychology of persuasion.
Unfortunately, some marketing has evil potential. Think of cigarette ads of yesteryears or those Facebook ads where a digital marketing agency is guaranteed #1 on Google.
Nowadays, we see companies of all sizes promote unfair promises while hiding behind BS awards or previous successes but no growth of character or business since those awards or achievements.
Although these marketeers with evil intentions and practices exist, the remaining ones – thankfully the bulk of them – have positive intentions.
I once gravitated toward the malignant types, but learned my lessons and will only work with those of genuine and ethical purposes.
Happiness spreads, and it's a marketer's job to ultimately spread that happiness. Turbocharge it. Make it part of your personal, business, or agency's mission statement.
The quickest route forward is to impress and influence for the good, which has a natural byproduct of happier people and increased ROI.
To do so, consider using the following psychological principles within your content marketing.
Many of the strategies discussed below are rooted in principles found in Robert B. Cialdini's "Influence: The Psychology of Persuasion". Read that book.
Read full story @ Search Engine Journal
20 new content ideas for the social media savvy business
So your business already has an active social media presence, you've already got a well-researched strategy, and you're feeling pretty savvy when it comes to marketing your business over social networks.
Believe it or not, now isn't the time to say 'mission accomplished' and start high fiving your colleagues. A social media content strategy should be in constant development; changing with the trends and shifting with your engagement levels.
With that in mind, here are some less-than-basic content ideas that you may not have tried before…
New content ideas for businesses on social media
1. Weekly challenges – People love to be challenged. Whether it's an industry-relevant riddle or a mini Wordsearch, it'll offer your audience a great incentive to return to your social channels week by week.
2. Fill in the caption – A great idea for Instagram is to post an image and ask your followers to suggest the caption. Ideally, caption suggestions will be fairly amusing.
3. Live video – Live video is always popular. Give your followers a tour of the office, or host a tutorial or webinar.
Facebook Campaign Budget Optimization: What Marketers Need to Know
Facebook Campaign Budget Optimization Will Be the Only Option for Advertisers
Facebook recently made an announcement that CBO will be rolled out in September 2019 for advertisers with a 100% CBO adoption. This means that if all of your campaigns in the 56 days prior to the change have been set up using CBO, you won't be able to turn it off and go back to setting budget at the Ad Set level.