How to Use the Facebook Event Setup Tool
Do you use the Facebook pixel? Want an easier way to assign Facebook event tracking to specific URLs on your website?
In this article, you'll learn how to set up Facebook event tracking with the Facebook Event Setup Tool for Web.
Click HERE
Feature Your Event in the African Beat? – FREE
Want Your Event Featured in the African Beat?
'The African Beat' is distributed to over 8,000 subscribers every other Friday. If you would like your event to be featured in our newsletter, please submit the following details: what, when & where, and provide a link to where readers can go for more information. Submission deadline for the next edition is Wednesday, July 24, 2019 by 5:00 pm. Send all materials, along with any questions, to oaa@dc.gov.
Tips to make amazing photos from Plotaverse and Photofocus
3 Tips for Better Smartphone Pics
1 KEEP YOUR LENS CLEAN
==========
Your phone lives in a pocket or a purse…. as a result it often gets dirty or smudged. Fingerprints, sunscreen, dust or grease can get on the lens can really lower the quality of your photos. Always wipe the lens off before you shoot. A lens cloth is a great addition to your pocket, but even a soft shirt will help.
2 THE "ZOOM" IS WORTHLESS
==========
Most phones simply use a digital zoom. This means when you pinch to zoom you're usually just scaling and cropping the image inside the camera. Instead of zooming, try walking. Or get a new lens!
3 A STEADY SHOT IS SHARP
==========
If your camera is moving, you'll may get a blurred image. This is particularly true when shooting at night or in low light. Try bracing the camera for stability. It could be as simple as tucking your elbows into your body or try out a new mini tripod.
How to Use LinkedIn to Turn Cold Prospects Into Warm Leads
Do you want more warm leads from LinkedIn? Wondering how to use LinkedIn to schedule more calls or meetings with new leads?
In this article, you'll discover how to use four LinkedIn marketing features to nurture leads.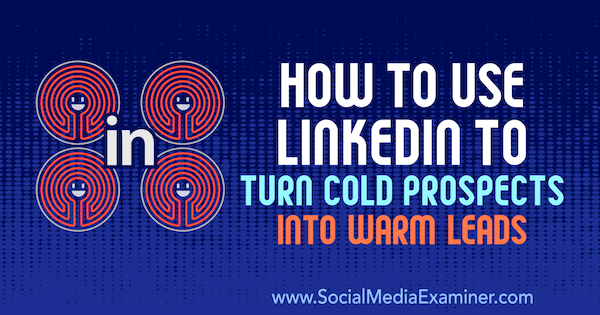 #1: Recommend a Group Post for More Exposure to All LinkedIn Group Members
In the past, LinkedIn groups have had a kind of ghost-town feel. Instead of fostering connection, networking, and engagement, they were a den of self-promotion. As part of LinkedIn's efforts to change this, groups are now part of the main LinkedIn platform instead of a side feature. It's now easier to access them from the home page, and your group conversations have more visibility in the main feed.
LinkedIn groups used to allow group owners to deliver announcements to all group members via group messaging. Now group members will be informed of group updates and conversations via LinkedIn notifications in the LinkedIn app and on the home page.
Although groups have had their drawbacks, they're fantastic positioning tools, even if your group doesn't yet have the engagement you want to see.
As a group owner, it's easier to stay top of mind because LinkedIn has a feature that lets you control which posts are promoted to your members. To recommend a group post, make sure you're logged in as an admin to the group. Then navigate to the post you want to promote.