James Baldwin's words still resonate
Lonnie G. Bunch III, Museum director, historian, lecturer, and author, is proud to present a page from Our American Story, a regular online series for Museum supporters. It showcases individuals and events in the African American experience, placing these stories in the context of a larger story—our American story.
A Writer Is by Definition a Disturber of the Peace
"One writes out of one thing only—one's own experience," the author James Baldwin penned in his 1955 collection of essays on issues of race in America and Europe, Notes of a Native Son. "Everything depends on how relentlessly one forces from this experience the last drop, sweet or bitter, it can possibly give."
Baldwin's poetic words foretold an immense body of literature that, in the decades to come, would probe the American conscience through his own lens as a black, gay man raised in the impoverished neighborhoods of Harlem. But the human condition that Baldwin so masterfully observes and interrogates in his writings transcends his own place in history, and proves still relevant many generations after their publication.
Born in 1924, Baldwin was the eldest of nine children brought up in a household struggling to rise during the most punishing economic depression in the nation's history. As a teenager, he followed his stern stepfather into the clergy, but soon broke away from the pulpit to pursue a passion for writing with the encouragement of Harlem Renaissance artist and life-long friend Beauford Delany.
United States passport belonging to James Baldwin, August 2, 1965
Those early years engulfed in poverty and religion would influence Baldwin's work for life, even as they took him far from the streets that forged him. In 1948, he followed the path of fellow writer Richard Wright and numerous African American artists before him to Europe.
Fleeing the racial oppression of America gave Baldwin the distance to examine his homeland—and his identity within it—with a keen and uncompromising eye that would define his work.
From his residence in France, Baldwin authored his debut novel Go Tell It on the Mountain (1953) and the progressive novel Giovanni's Room(1956), which stoked controversy for its exploration of same-sex love. From 1961 to 1971, Istanbul became the backdrop for Baldwin's writing. A city situated at the cultural crossroads of East and West, it was there that he wrote such renowned works as the novel Another Country (1962), essays The Fire Next Time (1963), and play Blues for Mister Charlie (1964). From abroad, he wrote about America's structural, cultural, and physical violence against African Americans and other marginalized groups.
Despite his distance, Baldwin and his work remained deeply American. He returned often to the United States as a speaker and activist during the most tumultuous years of the Civil Rights Movement. And he remained in frequent communication with civil rights leaders living in the U.S. through letters, many of which are preserved at the National Museum of African American History and Culture in its Making a Way Out of No Way exhibit. Alongside the mixed media of Baldwin's passport, manuscripts, and photographs, these letters offer an intimate window into an author who already shared so much of himself.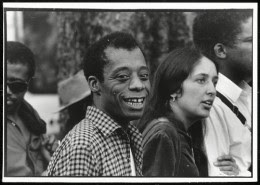 James Baldwin and Joan Baez in Selma
Baldwin participated in the March on Washington (1963), marched from Selma to Montgomery (1965), and testified before Congress in 1968 in support of a bill that would ultimately lead to the creation of the Museum.
"A writer is by definition a disturber of the peace. He has to be," Baldwin said later. "He has to make you ask yourself, make you realize that you are always asking yourself, questions that you don't know how to face."
The themes of Baldwin's most notable works, the struggle for racial and sexual equality and its toll on the individual, still resonate with audiences more than 30 years after his death in 1987.
As the Museum's Director, I have been proud to invite all Americans to honor Baldwin's work and witness his words told on screen. Among the multiple events we've held illuminating Baldwin's contributions, we hosted director Raoul Peck for a discussion of I Am Not Your Negro, a 2016 Oscar-nominated documentary rooted in Baldwin's unfinished manuscript of personal recollections of Medgar Evers, Malcolm X, and Martin Luther King Jr., Remember This House. We were especially delighted to welcome Baldwin's niece and nephew for that viewing.
These events help our Museum guests to connect the contributions of great African American public intellectuals and writers like Baldwin to our understanding of society as it exists today.
All the best,
Lonnie G. Bunch III
Founding Director
P.S. James Baldwin's work continues to resonate with audiences today, and the Museum is dedicated to connecting individuals with artifacts and stories from Baldwin's life. Please help the Museum continue to celebrate the lives of leaders not only during Black History Month, but 365 days a year, by joining as a Member of the Museum or making a donation today.
DMV & Radio Legend Tony Redz passed away | RIP Mr 24/7 Tony Redz💔
The legendary DMV radio DJ and host Tony Redz Aka Mr. 24/7 passed away today (May 29) of a heart attack. The news regarding his death was confirmed by Redz's former colleague and fellow radio host Sunni on Twitter. The tweet read, "Got a call from DJ Flexx that shattered my heart. Can't believe our former colleague Tony Redz has passed away. Way too young. Prayers to his family. Unbelievable."
Read full story HERE
Magic Johnson's Life Insurance Company Reportedly Funding $100 Million In Small Business Loans
Former NBA all-star Magic Johnson told the Wall Street Journal that his life insurance company will provide $100 million in funding for small women and minority owned businesses as part of the Small Business Administration's embattled Paycheck Protection Program.
Read full story at Forbes
Fix Your Finances: a 12-part financial education series that runs on Mondays at 8pm ET (5pm PT)
We will be discussing: How to set up a budget that actually works and is easy to stay on / 7 ways to free up money that you might not have thought of.
The good, the bad and the ugly truth about debt.
How to teach your kids about money.
How to reduce costs and understand insurance.
How to choose the proper investments.
The best investment strategies to start now to create retirement income.
This is a FREE online series and you can join us from the comfort of your own home.
For more details or to REGISTER, visit bit.ly/fixyourfinances2020
NOTE: If you are unable to attend the event and would like to personally discuss how you can get prepared or be prepared for the future, please schedule an appointment at ProsperityMIX.com